UPDATE:  It's alive and PD is trying to take him that way.  Found outside perimeter, hiding in a boat in someone's backyard.   It's just a matter of time.  It's done.  Alive and in custody.  Personally, I would have preferred the other way.
HERO:  Sean Collier, age 26.  He is the MIT officer that was gunned down by this trash.  Mom's a real winner too.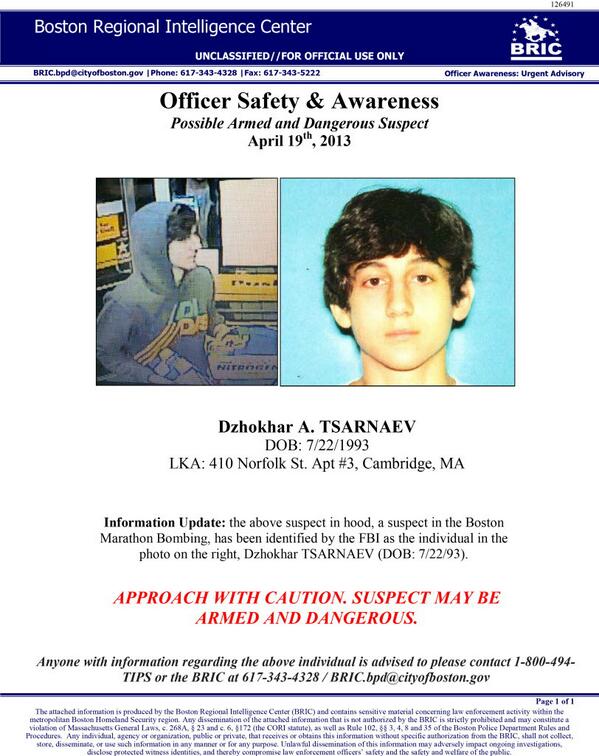 UPDATE 2  Confirmed One of the marathon bombers is in custody.  This is tied to the marathon.
One suspect in Monday's Boston Marathon bombings has been captured, according to an official with knowledge of the investigation. Another remains on the loose in Watertown after a firefight with police. Authorities have established a 20-block perimeter as they search for him.
Two brothers  Dzhokar A. Tsarnaev, 19, and said the dead suspect was his brother, Tamerlan Tsarneav, 26.
UPDATE:  Carjacked Mercedes  Middle Eastern young males, explosions, they have grenades and shots are being fired.  2nd officer now being taken to hospital.  There is a stolen SUV from state police.  Watertown MA.
LIVE Boston PD feed:  http://www.broadcastify.com/listen/feed/6254/web
Surveillance Video Related to Boston Bombings…These are the suspects.

FBI says that no one should approach these two because they are considered armed and dangerous.  Sounds like they are the perpetrators not persons of interest.  You can find the pics of the perps on fbi.gov site.
I'm as incensed and saddened by what happened in Boston today as I was after 9/11.  I do hope that the FBI gets some quick results.  I don't want the creeps that did this to have another minute of freedom.